I don't know how many really good collaborations there are between watch brands, but there are not many. Today, there is no shortage of cooperation between watch brands and non-watch brands, car brands and media stores, but you almost never see it with two watch brands. However, MB&F and H. Moser&Cie, led by Max Büsser and Edouard Meylan, respectively, jointly launched this limited-edition steel watch. H. Moser X MB&F Endeavour Cylindrical Tourbillon and MB&F X H. Moser LM101 borrowed some of the best design inspiration from each other, while maximizing the sharing relationship with Precision Engineering AG.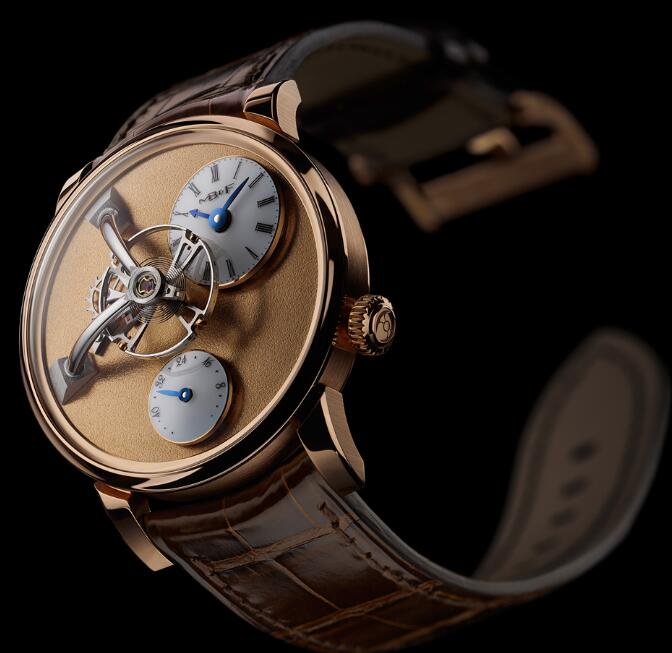 Maximilian Büsser said: "When I called Edouard to tell me that I wanted to collaborate, I mentioned that I really like the double balance spring, Moserfumé dial and Concept watch series. Edward immediately told me that he could let me borrow these features, but only if he could reinterpret one of my machines. After the initial surprise, I thought about it. Being 50% Indian and 50% Swiss Man, I firmly believe that mixed DNA will produce interesting results, so why not try experimentation in the watchmaking industry?
They produced 15 works for each smoked dial variant, and the number was chosen because of the 15th anniversary of MB&F and the 15th anniversary of H. Moser&Cie relaunch. I have a dial variant on each hand, so let's get started.
H.Moser X MB&F Endeavour Cylindrical Tourbillon
When I first picked up the Endeavor cylindrical tourbillon and put it on my wrist, I was completely knocked down. It is not accurate to describe it as a gadget, because there is a highly complicated clock mechanism inside, but most importantly, it is designed to make people happy. The unique eye-catching and deliberately unrealistic domed sapphire crystal design makes it almost impossible for you to forget to own this artwork on your wrist. The Endeavor cylindrical tourbillon case will immediately reminiscent of MB&F's first female watch Legacy Machine Flying T and last year's MB&F Legacy Machine Thunderdome, the size between the two is just right. The domed display case (reminded me of the charming rose glass cover beauty and beast shrink to fit the wrist) is 10 mm higher than the 9.4 mm thick case.
There are five variants of the smoky dial: stylish blue; cosmic green; off-white; ice blue; and Burgundy, this is the time I accompanied, you will see here. There are only two distinct dial aspects on the smoky canvas. At 12 o'clock is a one-minute flying tourbillon with a cylindrical hairspring, completed by Precision Engineering AG, Moser's sister company. This is the same as the balance spring first used by MB&F LM Thunderdome. MB&F LM Thunderdome itself is a masterpiece of three-dimensional movement.
Relatively speaking, a flat balance spring with a relatively high cylindrical balance spring rather than a focus on real estate is closely related to the dramatic intention behind its design. It is really wonderful to cheap swiss watches, almost like the organs in the human body, in a concentric state at work. Obviously, in addition to aesthetics, the watch motive has improved isochronism due to reduced friction.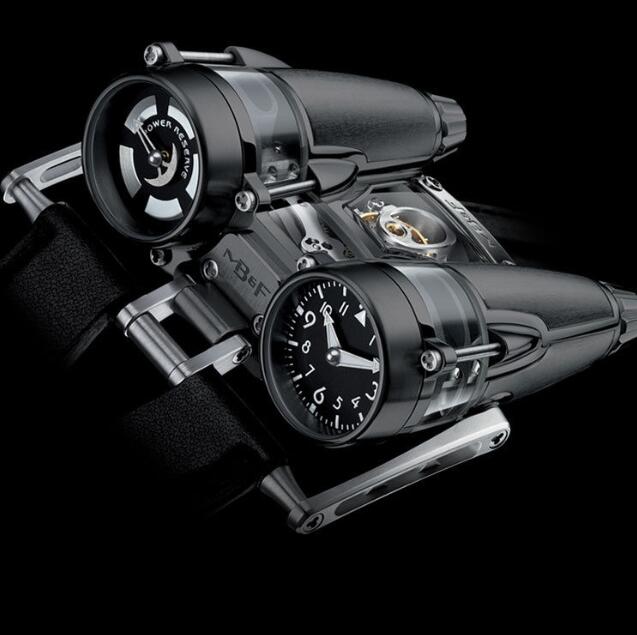 At six o'clock, Moser uses the MB&F tilt dial design, which is made of white paint on the LM Thunderdome and sapphire on the Endeavor cylindrical tourbillon. The reason for using sapphire is simple-they want to minimize interference with the fumé dial. The dial is tilted by 40 degrees, which actually only allows the wearer to tell the time. Fortunately, the hour and minute hands are actually very clear, and even on such watches, this is still important.
Below the sub-dial is a black bevel gear transmission mechanism that seems to fan out like peacock feathers from some angles. I believe MB&F HM9's horizontal sub-dial also has a unique bevel gear transmission system. All this is powered by the new HMC 810 3D movement launched by Precision Engineering AG, which also developed the LM Thunderdome movement in cooperation with MB&F. The HMC 810 is equipped with a cylindrical balance spring, a one-minute flying tourbillon, a tourbillon with a skeleton watch bridge, and a recognizable gold rotor with a Moser logo. It operates at 21,600 vph and has a 75-hour power reserve.
All five variants of the Fenjin cylindrical tourbillon are made of steel, measuring 42 mm wide and 19.5 mm thick, with domed crystals (9.4 mm none). The crown is located at 9 o'clock, which further enhances the overall quirky atmosphere, which will definitely be a bit confusing when worn for the first time.
LM101 MB&F X H.Moser
When MB&F's basic Legacy Machine LM101 reaches Moser's minimal dial concept series, the LM101 changes. The result is a novel and novel experience of Legacy Machine, just like Endeavour, which feels like a truly attentive collaboration, executed almost perfectly. Since its debut in 2014, the LM101 has become one of the most wearable MB&F watches. Even if it is not the most single watch, it has brought new vitality to it. Red smoky; cosmic green smoky; and Moser's stunning Funky Blue smoky smell, this is the version I personally touched.
Compared with the original Legacy Machine 101, the most obvious change is the removal of the floating dial, leaving only the hour/minute and power reserve indicator hands. Although I like MB&F's recognizable sub-dials, I prefer this iterative form over the classic version over the hundred in the classic form. The brand name, logo and all text have also been removed from the dial, which is closely related to the response of the Moser Concept series, so that the dial is clean and clear, allowing you to focus on the most basic elements of the watch.
Of course, the 14 mm wide center balance and its supporting bridge dominate the dial. Precision Engineering AG provides Straumann double hairsprings to improve accuracy and synchronization.
The double-sided AR-coated sapphire crystal glass ball is domed (although it is obvious that the appearance of the Endeavor cylindrical tourbillon is almost absent), which makes the dial look surprising. This anti-reflection coating is crucial, because there is nothing more disappointing than disappointing except to appreciate the design and finish on the watch like this.
The manual winding movement on the back of this LM101 case was not completed by Kari Voutilainen like the original watch, but after a more modern treatment. The movement has a NAC black bridge, hand-carved and Geneva stripes, all done by hand, and is expected to be beautiful on metal. The LM101 movement has a 45-hour power reserve and can run at a speed of 18,000 vph. The unique structure of the movement can be seen from the large balance wheel angle on the dial.
I think the 40mm wide and 16mm thick eccentric crown steel case is ideal. In fact, it is completely wearable. On the wrist, the LM101 is perfect to wear. Compared to Endeavor, it has a larger, conservative sapphire crystal.
I do think that these are the two most attractive high luxury store recently released by MB&F or H. Moser&Cie, and they both praised them. With the resources of Precision Engineering AG and the clear mutual appreciation between these two independent brands, the two brands were able to carry out serious design and watchmaking cooperation.
H. Moser & Cie X MB & F Endeavour Cylindrical Tourbillon will be available in five versions: stylish blue smoke, cosmic green smoke, off-white smoke, burgundy smoke and ice blue smoke.